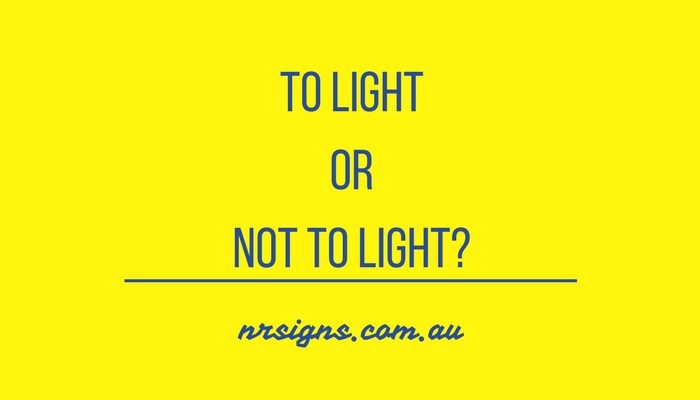 Everything these days is bigger and brighter than the past, but does that mean our signs have to be as well? When you're picking a sign for your business you want it to be just right. Eye-catching, easy to read, conveying a message. So, do you go with a stock-standard sign or an illuminated one? We've weighed the pros and cons of each, so you don't have to.
Illuminated Signs
Pros:
Eye-catching: You want people to see and notice your sign because, well, that's what a sign is for. Using LED lights in your signs makes them brighter and makes them stand out. People love bright and shiny things, and your sign could be one of them.

Seen 24-hours: A standard sign could have all the colours of the rainbow with catchy wording and a fun logo and would still be missed when the sun goes down. Lit up signs will obviously be seen during dark hours and therefore will most likely have more eyes on it.

People will be impressed: Again, people love shiny and bright things. People are more likely to be impressed by an illuminated sign rather than a plain black-and-white one. If people are impressed by your sign, imagine how impressed they'll be with you!

Options, options, options: With an LED sign you can configure it however you like. It can flash, dash, change colour, animate and move. The versatility of this sign means you aren't stuck with one option forever.
Cons:
It may not be for your business: If you're an accounting firm or a surgeon's office it may not be appropriate for you have a dancing LED illuminated sign out the front. Fun and funky signs like this may counteract your 'serious' business approach.

Energy: To power an illuminated sign you will need to use power which is electricity which is money. Think of all the different ways you could be spending that money?

It may not be seen: if you want an illuminated sign on the 15th floor of an office building where no one except your employees enter and exit, this may not be for you. The flashing and bright lights will be wasted on people who will eventually become numb to it and ignore it.



Standard Signs
Pros:
You can design it how you want: unlike LED signs that are made up of light tubes, standard signs allow for more details and artistry when it comes to design. You can have any shade of colour you want (not just neon) and can be as delicate or not as you please.

Less expensive: There is little-to-no maintenance for a standard sign. Apart from giving it a clean every now and then you don't have to pay for electricity bills to make it flash.

The bigger, the better: In some cases the bigger the sign you have, the better. If you want a large sign on a door or outside you business you can make it as big or as small you like. If it were illuminated it would be difficult to format, create and run if it were to be a larger sign.



Cons:
Light may be better: If you're competing with other businesses who have illuminated signs, a standard sign may not be right for you. It would get lost in the landscape and would not get noticed as much as you would like.

Technology: These days everything is electronic and technologically powered. To have a black-and-white matte sign the size of an A3 piece of paper can be considered boring and unapproachable. Illuminated signs could bring you into the 21st century.

Your business: if you're a circus, entertainment province, or a lighting store, the brighter the better. You want to be seen as fun and out-there and you can do that with flashing and dancing lights.
Now that you've put the pros against the cons, you'll know what sign is right for you. When you make up your mind, give us a call.